FHM/O2 Cup 2006
Click on the FHM Logo to go to official site.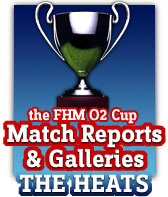 Bunky's Match report for the day follows...
Sunday 5th March saw a select Bunky's team enter into the second FHM O2 Cup Heats in Birmingham.
Things started badly as the Ask MK TV crew failed to arrive on time to travel up with the team and then got worse as Ben lost interest in the journey, taking us all on a magical mystery tour before reaching the venue 10 minutes before we were due to kick off.
With everyone fully kitted with seconds to start, we posed for the picture and enjoyed the high point of the day from a football perspective.
Teams were pooled in four groups of five – with Bunk'ys in Group C – and the first game started brightly with Bunky's playing some good football and creating a few openings.
Five-a-side threw things a bit in respect of the formation – but once we had mastered this, a cutting through ball from Gaz and allowed Daz to strike the ball home for 1-0.
Queue shambles and we lost 2-1 ……
With several teams not arriving, the format of the tournament was thrown into chaos and Bunky's endured a massive wait until the next game, filling the hole with a selection from the Bacon, Sausage and Egg Burger man.
Next game and Bunky's needed a win. Following two 5-0 'by's' we could still qualify with victory over the two remaining opponents. Trooping off having lost 3-0 (although they did go on to narrowly lose the final 1-0 in fairness), we knew that was it - and despite Daz chalking up a second in the final game (following a lovely move that saw Ells draw the 'keeper before laying it off) conceding two goals meant good night Vienna.
And so to the real reason we were there …..
Mascot – brilliant. Both Rolfey and Daz's mate deserve a round of applause for the effort. Big hit with FHM and everyone else – and by far the most superior on display. Unfortunately, we even lost out on the opportunity to go forward in this category as well as we only had Daz's three mates and the camera crew as supporters – and we had no songs!
With some strong interest in the camera crew, we were pestered all day long by the celebrities looking to get their jaws on the tele. If it wasn't Kelly Dalglish or John Scales, it was renowned Bunky fan Neville Southall.
And them FHM girls, of course. They just wouldn't let it lie.
Eventually, we gave in – and let them have their five minutes of fame on our TV slot. It would seem that they all wanted to get the same thing off their chest ….. check the video clip for full details.
And so the day ended – well, following an almighty logistical nightmare trying to get everyone back and still be present for the awards after Rich decided to go home on his own …. But all in all a good day and we did the club proud.
The Team;
Disco & Ritchie A.
Gaz, Rob & Steve
Rolfie, Rich, Ben, Rogers& Ells
Daz
The supporters
Gold, Jason & Simon
Well done boys.

Click on pictures to en-large
A3 copies available on request
Warm up
Still on the phone?
Rogers lays down the tic-tacs
Spot the ugliest
Big Dog takes on
Big Nev
Go get em lads
Moon base Alpha
Early nerves?
Getting stuck in
Jennie & Big Dog
Least someone looked at the right camera
Put ur tongue away
Big Nev
You need bigger hands
Bruvs in arms
Big Dog & Kelly
Gaz interviews Miss Dalglish
There's only one Carlton Palmer
Nice megaphone
Late night Ells?
Lovely Kelly and 2 not so lovelies
Check the background!
FHM girl #1
FHM girl #2
FHM girl #3
FHM girl #4
FHM girl #5
FHM girl #6
FHM girl #7
Groupies
A smoking dog? Never
Who let the dog out?
Honoury Bunky
Get ur teeth fixed
Bunky Chollox FC
Ahh
Leavemyarsealona
Game #
Result
Comment
Starting 5
Subs
Game 1
Lost 2-1 to
ONLY HALF JAFFAS
Should have won, Daz scored.
DISCO, SPOONY, GAZ,
ROLFIE, DAZ
BEN FOR SPOONY
STEVE FOR ROLFIE
ELS FOR DAZ
ROLFIE FOR BEN
Game 2
Won 5-0
GOLDIE LOOKING SHOWER
no show
Game 3
Won 5-0
HOOTERS SHOOTERS
no show
Game 4
Lost 3-0 to
CORONA KINGS
Losing finalists
DISCO SPOONY, GAZ,
ROLFIE, DAZ
STEVE FOR DAZ
ELS FOR SPOONY
ROB FOR ROLFIE
DAZ FOR STEVE
Game 5
Lost 2-1 to
POOTANG CLANG,
Should have won, Daz scored
RICHY, STEVE, ELS,
DAZ, ROB

SPOONY FOR STEVE
BEN FOR DAZ
GAZ FOR ELS
Bunky's came 2nd in the best supported team, losing out to the Cunning Stunts who
had cheerleaders and chants & stuff.
We did better than 'Crownhill/Timmys' though! aka Leavemyarsealona

Final was won 1-0, by "The Number 1's" who beat Corona Kings.
Goal was in the last minute of the game.

PDF of all results from the Brum Heats here.

Rich was live on Local Radios best 'Horizon Radio' Friday 24th Feb.
Listen to Spoony's chat with Ros, Cueball and Trevor by
clicking their logo below. A massive thanks to Horizon for
their time and support of Bunky's, much appreciated!
We also took local MK TV film crew along for the day.
Click the logo for ASK MK TV's site.
Thanks to the following for the publicity.
FHM's Match report for the day follows...
It's a snow-splattered Sunday morning at Birmingham University's football pitch and it's cold. So cold that players participating in the first heat of the 2006 FHM O2 Cup are deliberately splashing their hands in Bovril to keep warm. Indeed, the temperature has plummeted to such a testicle-numbing temperature that people are wandering up to the O2 registration dome, hoping that it's an igloo and they'd find a gaggle of friendly Eskimos inside.

Hard luck. But turning up on such a frost-bitten day doesn't seem surprising when there's such a jaw-droppingly prize available, namely the chance to win £5,000, play at a stellar Highbury final and be crowned victors of the second FHM/O2 Cup.

And what an effort today's teams have put in. Midlands' maniacs Captain Toejacks Band of Marching Teddy Bears played wearing teddy-bear deely-boppers and skittering around with a freaky baby doll. The Poontang Clan looked less Ol' Dirty Bastard, more Graham Norton in their pink shirts. Meanwhile, Derby outfit the Stunning Cunts brought along an entire menagerie of freaks, including some US Army corporals, Robin Hood, a doctor with an inflatable banana, Batman, and three courageous cheerleaders, who were knocking back peach Schnapps at 11.00 in the morning.

A smattering of celebs even braved the Siberian-like chill, including the winsome Kelly Dalglish (on presenting duties), avuncular goalie and hamster-faced Everton legend Neville Southall, and local Villa hero Carlton Palmer (real age: 40, looks: 15).

But we haven't come here to report on the crowds or what clothes people are wearing. Oh no. Some stunning football was played today.

Due to their raucous (and half-pissed) 30-strong entourage, most Cunning Stunts' games were highly attended, and they won Group D with ease, with forward David Stanway flashing his 'TITS OUT FOR THE GOAL' vest when scoring. Flamengo breezed through their group too, displaying all the flair and flamboyancy of their Brazilian club namesake (despite their Dennis the Menace-style attire). With fancy 5VC and the regal Corona Kings topping groups 2 and 3 respectively, the quarter-finals were soon upon us…
Flamengo's showdown with Not So Utd culminated in a penalty shoot-out every bit as nail-biting as the England-Germany, England-Portugal clashes (Flamengo won). And despite fielding a player who looked like David Ginola, the Stunning Cunts (sorry, Cunning Stunts) crashed out 2-0 to mercurial Mancunians, Number One.

With four teams going through from the Brum heats to the Highbury Final, it doesn't mean to say that teams gave up at the semi-stage. As anybody who witnessed Number One and 5VC battle it out will testify, you could scour the whole of Birmingham's Balti Mile and still not find a spicier slice of action.

And so onto the final. Number One vs. the Corona Kings. With the action oscillating from one end of the (now-soggy) pitch to the other, it looked as if the final would peter out in a vibrant goaless draw and the fear of 'ooh penalties…' was slowly becoming visible on players' faces. But then… one minute before the referee's final whistle, Number One's Lee Nixon belted the ball past Corona's valiant goalie. Their moniker didn't seem so presumptuous after all…

And as the sun set over the glam environs of Birmingham University, casting a salmon-like hue over nearby council estates, Number One hauled themselves up on the podium, safe in the knowledge that they'd won but fearing the onset of hypothermia, windburn and shrivelled willies. London, Leeds and Glasgow - your teams have a lot to live up to…


Click here on the FHM Logo for details of heats and a whole lot more.




2005 FHM/O2 Cup pictures below...........