Russ Update 16th Dec 2007
Well hello all...
You may have been thinking "Russ and Erica have been gone a while now...not heard much from them..." or possibly "I wonder how those two, I forget their names now, are getting on in...where ever it was they went..." Either way, some of you have had some updates, some haven't so sorry if I cover old ground, and get ready for a catch-up...
<![if !vml]>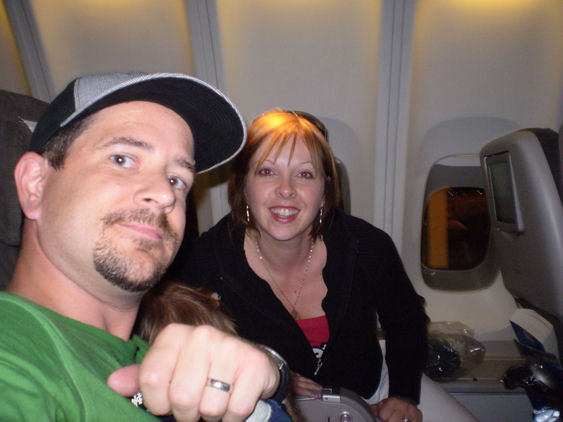 <![endif]>
It's been 8 weeks since we set foot on the hallowed carpet which donned the high level gangway into Auckland Airport International terminal. There's been ups and downs (there are lots of escalators in the terminal and Amberley wanted to ride on them all...) but we feel good and settled under the circumstances and yes, ok, we're enjoying being here.
At Auckland International Arrivals...
<![if !vml]>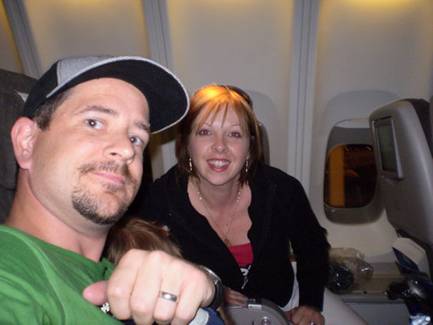 <![endif]>
The first week was dominated by the jet lag…
<![if !vml]>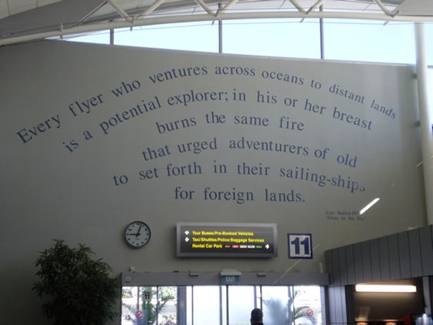 <![endif]>
… and the finalisation of my new Job. I'd had one lined up bar the shouting but it got filled a week before we left so there was an element of urgency. Fortunately the agency I was using got back on the case and by the time I arrived it should have been a simple case of signing my new contract... unfortunately the HR department didn't think protocol had been followed so there were a few more hoops to jump through which took to the end of the first week when I finally got the contract signed and sealed. Big relief - and a good job which I wasn't about to turn it down while I waited for the dream shelf stacker job I always wanted.
As you may know, we were fairly restricted on our flight luggage allowance - 20kg each, and seeing as our large Samsonite cases were 8Kg a piece it didn't leave much room for 6 to 8 weeks worth of stuff! So we'd found an air freight company that could send more stuff over to us for 3 quid a kilo rather than the 33 pounds a kilo the airline would have charged for excess baggage! Anyway, this arrived a couple of days after we did and we spent a day going backwards and forwards between the customs office, air freight office, Ministry of Agriculture and Forestry (MAF) office to get our delivery cleared, released and put into the back of the car. Just a paper pushing exercise, no dramas apart from being given the wrong directions to the MAF office by Customs leading to yet another tour of the Airport district... but once we'd got it all squeezed into the car (which almost lead to Amberley sitting on the roof) we got it back to the cottage safe and sound. Some more clothes, the Laptop, crate of Amberley's toys, some paperwork, Amberley's car seat and more importantly, a half eaten box of raisins that Amberley had hidden in one of her bags in her toy box.... would have been a nasty fine if the sniffer dogs had picked that up!!
We also had to contend with the Banks in that first week. When we applied for our account in NZ, it was about 6 weeks before we arrived. The Bank told us it would take two weeks to set up so we thought a 4 week contingency would be enough. NOPE!
Local. Local shop, local post office, local library... the kinda places where people know each other, they chat, they hark on about the good old days when whipping kids was expected and how the big city is just a rat race. The staff in these 'local' establishments have been there since Bob first put the sign up above his front door saying "5,000 Eggs - half a crown" or "Medicine water for sale, comes with free bed pan' and at the age of 76, they can still remember walking through that door on their first day as a bright eyed four year old in shorts and bits of old carpet tied to their feet for shoes. Local.
HSBC... the worlds local bank.
Of course it took longer than 2 weeks to open our account! Following a trail of lost documentation, late requests for additional documents, reliance on HSBC staff in 'local' branches in the UK to actually know how to put a piece of paperwork into the internal mail etc. etc... we arrived with news that whilst we had got an account opened (on the Monday after we arrived!), our cheque books and account/cash cards had been sent to Milton Keynes....and the transfer of a large amount of funds from a UK HSBC account into a NZ HSBC account was going to take a minimum of 7 days! (Note that they didn't tell us what the maximum time would be!)
Fortunately we had some good old cash in hand which saw us through until our money arrived, but the only way we could access our money was to go into the only walk-in branch of HSBC in the heart of Auckland City with passports, birth certificates and blood samples. That's right... the worlds 'local' bank has just one walk in branch in the whole of Auckland. I'm not even going to start on setting up the internet banking....
But that's enough ranting about the bank, I'm sure we've all got stories about the bankers of the world. Back to the plot, which I think I might have lost there for a while...
Telecom. NZ's equivalent of UK's BT before it went global. Bad points - they have an automated answer service for customer support which has voice recognition...unfortunately it has not been trained in the Queens English and until you learn to say 'Good on you' as 'Gud on ya' meaning 'yes' you won't actually be put through to anyone. And then when you do get through to the next stage, unless you say 'Broadband' as 'Broadbind?' you'll be sent to the top of the menu system where you get to practice your 'Gud on ya's all over again. That said, when I did get through to somebody, they made me feel like they were only ever employed to serve me, they had been sitting for 3 years waiting for my call and would sit idle once I'd hung up just in case I needed to contact them again. Very impressive service and once he (a Richard as it turned out) had very quickly established that I'm happy to be called 'Russ' we were like best of mates. He was able to provide his direct line number for follow up calls and get this.... when he said he would call back in a few minutes, he called back a few minutes later. Now you just don't get service like that anymore from those helpful BT staff in the Punjab. So with a little to-ing and fro-ing between Telecom and the landlady of the cottage (who was English, been here 5 years) I got my laptop up and running on broadband...hurrah!
So with one of the Key Objectives - and some might say the primary objective of getting a job - sorted out we could relax a little and enjoy our lovely setting in the bush landscape of Titirangi in the costal hills of the Waitakere Ranges... which we did when the wind and rain weren't howling through the place like a hairdryer on a dripping blue rinse.
It's windy and wet in them there hills!!
We had a lovely deck with a lovely view with a lovely pool... but sadly the weather wasn't good enough for us to make the most of it. Spider Cottage was a fab place to stay but would be even better in the summer. There were many nice crisp sunny mornings….
<![if !vml]>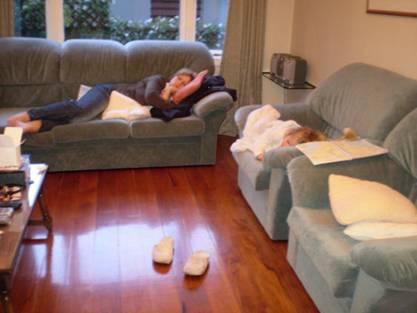 <![endif]>
…but equally as many howling windy rainy nights. With the wood burner kicking out a bit too much smoke, we used the gas fires and electric blankets to keep warm. Sounds harsh, but life without central heating isn't all that bad, just takes a bit of getting used to. We have learned a great conservation strategy which reduces your carbon footprint and saves you money... putting on a jumper.
I'm probably being a bit wimpy here (not a reference to the fast food chain) as the temperature was actually around 16 - 18 degrees and I still got a bit of a tan during a day at the beach which made me look like a lightly toasted sesame seed bun.
Week 2, objective 2... a car...
We'd got a rental 4x4 for a month but we'd also got money in the bank doing nothing while we shinned out NZ's GDP each day on the rental. They like there cars over here and there are more second hand car dealers per square kilometer than there are sheep. (Well it seems that way driving through town 'cos we see more car dealers than we do sheep) So anyway, we visited a couple and soon got a warm glow that even though 50% of the dealers we talked with were British, they seemed to run a bit more along the lines of small family businesses with a reputation to uphold in a competitive market. So it was actually nice to spend half a day chatting with them 'cos we were their only customers that week and they were more interested in being friendly and chatting than worrying too much about the sale.
We then embarked on something quite novel for Erica and I.... we set ourselves a budget (nothing new there...) and we came in under it. (WOW I can't believe it, it seems even more real now that I've written it down!) and it was quite a bit under too. Everyone wants a nice 4x4 (in NZ anyway), but the good ones were above the budget. We wanted a big car to fit everything in for days out, weekends away etc. and were eyeing up estate cars and MPV's. Walked away with a Honda 7 seater Odyssey 2.3 Auto. It's a good size (5 seater vehicle with a nice large boot that has a double seat that folds up into it.), easy to drive, enough power and this particular one was freshly imported from Japan which meant it just passed the vehicle import standards inspection which is reputedly more strict than a UK MOT. 60k miles on the clock $9k. (about 3,300GBP - sorry, my keyboard doesn't have a pound symbol on it!)
<![if !vml]>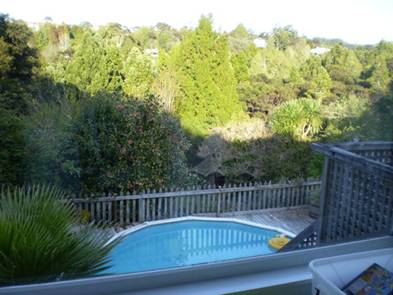 <![endif]>
So we returned the rental early and got a 400GBP rebate - lovely jubbly!
Now one thing we've noticed that is a refreshing blast from the UK past... when you phone up any sort of financial institution such as the bank, insurance companies, the church.... the most amazing thing happens. The phone connection is made, there's just a couple of rings, there's a slight pause, and then - and you may remember this - somebody says hello! Somebody actually introduces themselves - a live person - and asks how they may help!!! No 15 minutes of listening to a recording of the why's and wherefores of financial regulatory details, no wasting of what feels like half your life as your phone bill sky rockets on the say-so of the government, no hanging on listening to greensleaves once they see fit to put you through to the automated and interactive answer/confusion/cut you off service... there's an actual person on the other end of the line who is only too happy to assist you in what ever incomprehensible oriental accent they have been blessed with! It's brilliant!
Week 3, objective 3... somewhere to live...
Now house hunting is always fun, but it's a little less fun when there's a deadline looming as in "If you don't find a nice place at the right price in two weeks you're on the street!". We knew our budget and we knew how the game worked and Erica started ringing round the estate agents enquiring about properties listed in the local news paper and on-line. It turns out that after getting fairly poor results on the internet, there was much more to choose from in the paper, although there were no pictures in the paper, just descriptions. We got about half a dozen addresses and set off to do drive-bye's... leaving the oozie at home of course.
There are many different districts in Auckland and there was no shortage of people telling us which areas to avoid....basically telling us not to bother with Maori/Pacific Island populated areas. The Kiwi's can be pretty blunt at times and while honesty is refreshing, it can come across a somewhat racist in this context. Especially with phrases like "You don't want to live there, it's full of lazy Maori people trashing the place...". We also visited a few new-build show homes, to get a feel for house designs and also to tap into the local knowledge of the show home staff. If you want info on what's what in any area, show home staff are the font of all knowledge! (And they will talk to you for ages to avoid talking with Maori/South Pacific/Indian people wondering round!)
After driving quickly past a few properties with graffiti on their neighbours fences (bit of an issue in some areas) we came across a couple that fitted the bill. Viewing them was a simple case of making an appointment, but sometimes we had to wait for an 'open home' slot where anyone who was interested would view at the same time. This is fairly off putting as you feel like your mingling with your competition if you like the place! They do have a rather interesting selection process to decide who they rent to though... you fill in an application form the next day and fax it to the agent (they seem to rely very heavily on faxes...still... which is soooo 20th century!) We had an agent stand there in front of another couple (Maori) as they filled in their form, telling us that we could fax him our form the next day or 'whenever' and we'd be considered as tenants. He even phoned us the next day to chase us... seems like putting 'Maori' at the top of you application form simply means you'll be filed in the bin.
We got the impression we were 'desirable' tenants and used this knowledge to negotiate the rent when we finally did find a nice place. Now we knew the Kiwi's were friendly but we were starting to find out exactly how friendly. Due to us not having any furniture, the estate agent lent us an air bed and offered us a dining table and chair set that her mother had spare. The landlord was doing all he could to tidy the garden and get the place looking good which included some repainting. He was also happy for us to get the keys a couple of days early so we could move in over a weekend. No charge.
Our house…
<![if !vml]>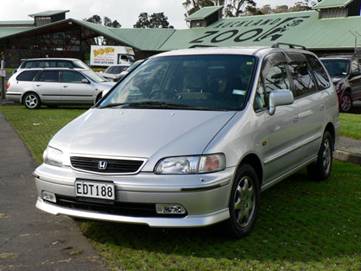 <![endif]>
With the view from the front deck…
<![if !vml]>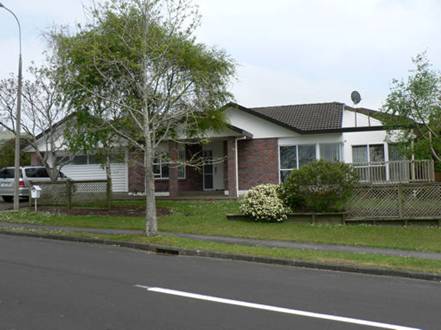 <![endif]>
So there we were, in our empty 4 (double) bed detached bungalow, 2 bathrooms, double garage (with electric remote door - which is fab!), North facing garden, patio doors from two bedrooms to the garden, patio doors from the Dining room to the back garden and to the front deck which over looks the bay where there's a marina about 10 mins walk down the hill where I get a shuttle ferry to work each day... I'll have one of those 'to go' please. (and no, of course I don't walk! Erica drops me off in the car!!) Ours is the smallest property in the street, most of the others you would expect to see surrounding a nice golf course - which makes it a nice area.
Did I mention I get a ferry to work? Yes, I get a ferry to work… sweet isn't it!
<![if !vml]>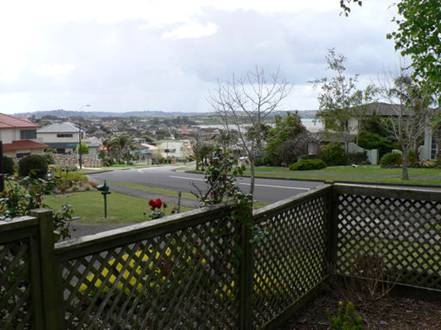 <![endif]>
Every morning I'm sat on a shuttle ferry, cruising out of the marina and into the rising sun with the Auckland skyline looming in the mist... the 45 minute door to door trip is about 25GBP a week, which would have got me 1 day's return as far as Watford on the train from Milton Keynes. You pay more than 25GBP a week just for the privilege of leaving your car at Milton Keynes station! So in terms of 'quality of life' my commute is now cheaper and somewhat more pleasant.
I'd been watching the progress of the ship which was bringing our container over. It docked in Shanghai just half an hour late after a 3 week journey - which I though was pretty good - but those who know the shipping industry may think it an outrageous and costly delay! The container then got placed onto a different ship for the second leg via Brisbane. We got a call from the shipping company to say they were expecting it's arrival a day earlier than expected and they hoped to deliver it to us about 3 days later once it had cleared customs and the MAF inspection as all the paperwork seemed in order. The boat finally crawled into Auckland port 36 hours early...nice! Customs clearance came shortly after that but unfortunately the MAF people wanted to inspect about 20 items in the container to check for signs of life (animal or vegetable). Things like golf clubs, garden tools, BBQ, Amberley's swing/slide etc. We knew they were hot on that type of thing and we had very carefully cleaned all our belongings prior to packing so we weren't too worried, just a bit annoyed that we had to pay $400 for the privilege of having the inspection. The delivery of our container was then delayed a over the weekend so that the MAF inspectors could be there at our house when it was unpacked to inspect the items.... so I took the day off work of course and the container came, was unpacked, the inspection items were put to one side in the garage still packed, waiting for the MAF staff...and waiting...and waiting... mean time the container was emptied and gone. After several attempts to contact both MAF and the shipping company (who had arranged the inspection) we found out that the inspection would be on Thursday...
We'd been sleeping on a very uncomfortable air bed for over a week, the first thing we were going to do was put the bed back together and make it up nice so we had a nice crib to crash in at the end of a busy day... but oh no, one of the items that MAF wanted to inspect was the box labelled "Tool Box'. This was still packaged up in the garage, sitting pretty with all the nuts and bolts in that that were needed to put the bed back together... :(
After about 3 to 4 minutes of considered contemplation, the nuts/bolts/tools for the job were safely in hand and a careful re-wrapping of a tool box was underway.
Risky, some might say... flirting with the wrong side of national regulations others might think... When the inspector arrived a few days later, as soon as I had confirmed that there were no garden tools in said 'Tool Box' she dismissed it from the inspection. Had we not previously retrieved the nuts and bolts, I think at that point they might have found themselves embedded in the nice lady's forehead.
The inspection was a bit of a farce 'cos despite picking out a couple of small blades of dead dry grass, eyeing them closely, and then throwing them on the floor, most of the stuff simply got glanced at in their open boxes. Only my golf shoes drew enough attention to require a bit of a brush down - but again, it just meant that suspect blades of grass went on the floor or down the sink! Oh and a couple of pine cones were cut from our Christmas 'wreath' - forgot they were real and not plastic! All done, all sorted, just one slightly dented lamp shade and 20,000GBP's worth of stuff safely delivered 11,000miles. Job's a good'un.
The Beach..sorry, that's beaches. There's quite a difference between East and West coast beaches. Some of you may have seen some pics of the west coast, this is where the surfers go and Bethells beach is where Erica is training to be a lifeguard... that's right, Erica has joined the volunteer lifeguard group and is now on the very serious training schedule to become 'bronze' qualified (not sure if that's a grade or colour of skin though!) Either way, she's training one evening a week in the pool, one evening a week at a theory class, and one early morning at the pool (she leaves the house at 5:30am!) The training will probably take all summer, it's extremely in depth and includes zipping about on the beach on a quad bike...! So the Bay-Watch comparisons are pretty obvious, but she's going to avoid the bright red swim suit...
<![if !vml]>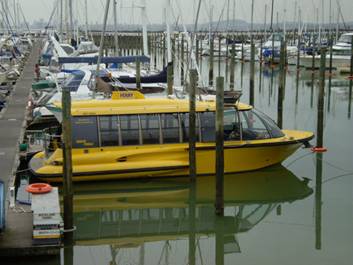 <![endif]>
We've made some good friends right across the road from the house, they are from near Blackpool and have been here for about 4 years. They've been really friendly and we've had a BBQ over at their place etc. Erica sees Lin quite a bit during the week for coffees and popping to the beach etc, while I sit in my office getting calls from Erica telling me they are on the beach/on the way to the beach/just leaving the beach/getting coffee/going swimming etc. etc...but hey, I can see the Auckland Sky Tower from my office window, just a shame I have to go to the other side of the building to look at the volcano by the harbour.
Things that are more expensive than the UK:
Medical supplies - head ache tablets/medicines etc.
Bacon/Pork products
Children's garden toys/swings/slides etc (good job we brought Amberley's with us!)
Furniture - $150 (60GBP) for a unit that would cost 15GBP from Ikea!
Things that are less expensive than the UK:
EVERYTHING ELSE!
Good but cheap wine is about 3GBP a bottle
Fruit & Veg - about half price
Lamb - cheaper than Beef (as you'd kinda expect really)
Petrol 60p/litre
Car Insurance (Which isn't a legal requirement in NZ!) is about 1/3 of UK prices - just goes to show how much UK prices are bumped up 'cos it's compulsory!
Personal Accident insurance - Free. If you're a victim of any type of accident which effects your health or well being, treatment is on the government at private practice standards. This includes income compensation etc.
440ml Cans of beer - 40p each
Erica could tell you more but you get the idea... you can also see what I've spent money on!
Sunday just gone was the Auckland Santa parade. It was a little exhausting standing waiting for an hour in the blazing heat, and a little emotional when the floats came past blasting out 'Santa Clause is coming to town' and 'I'm dreaming of a White Christmas'... when we're stood in shorts and t-shirts with bright blue skies...made us miss England a little, but we coped ok 'cos we'd been to the beach that morning...
We've got my works kids Xmas Christmas party this coming weekend which is being held at an indoor snow/ski venue just a little North of Auckland...Amberley is more excited about playing in the snow than she was after seeing Santa sweating profusely on top of a huge sleigh/float! There's also an 'ice' bar in Auckland which we may visit if we miss the cold too much over the Xmas period.
So it's fair to say we're settling in. The dream of a better life has, in the short term, knocked on the door and made itself welcome. That said of course, we miss all our friends and families immensely. Bethells Beach is only 30 mins drive over some stunning scenery…which is quickly becoming our VERY 'happy' place…
<![if !vml]>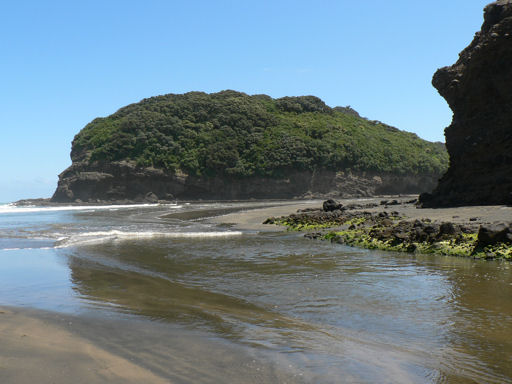 <![endif]>
<![if !vml]>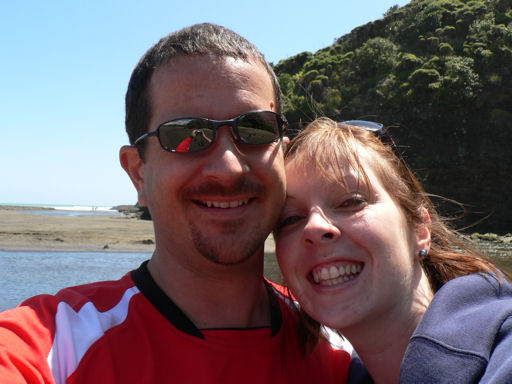 <![endif]>